I'm not generally into fluffy, warm and fuzzy pics of cute little critters. I don't do
pink
.
Occasionally, though, I have to confess to falling prey to some meme or other on the interwebs. ATM, Lil Bub's youtube channel is where I go to have a smile. Lil Bub is a disabled cat. She has some sort of bone disease that makes it hard for her to move around and she's toothless. She was the odd kitten out when her human companion, Mike (pictured above), found her and decided to adopt her.
Despite her physical constraints, Bub keeps right on truckin'. And she is loved. So, in addition to being painfully cute, she is also an inspiration to disabled kids and also not-disabled kids. This latest youtube video -- http://www.youtube.com/watch?v=gHQMBa2Vr38 -- that I discovered is a compilation of Bub's appearances on The Friday Zone, a locally produced kids show in Bloomington, IN. She tells the little ones that she is an alien who crash landed here (convenient for when she has to "go away" at some point in the future because her whole not-quite-right system breaks down).
For those who find the sweetness of the 3-year-old's dubbing as Bub too intense, just turn on the Closed Captions. They add a complementary tart flavoring of complete surrealism.
Enjoy! And please feel free to try and out-cute Bub; but remember, I'm a harsh judge. Trivial cuteness will not suit.
(PS: I'm a little behind the times. I know. Right? I live on the outer fringes of the continent. Things are slower to get to me. And also because I discourage all my acquaintances from sending me whatever drivel is touring email boxes around the world, I am forced to discover stuff all on my own.) ;-)
Last edited by AlyKat on Fri Jul 12, 2013 6:45 am; edited 7 times in total (Reason for editing : Why can't I UNtick the Disable HTML in this post box and keep it UNticked?! Pffffft! Preview works. Send post borks.!)
I give up. Tom? Why won't the HTML in my post work?

Last edited by AlyKat on Fri Jul 12, 2013 6:45 am; edited 1 time in total
Awww.  Bub is a
super
cutie!  TY for that.
Aside from my little cat Bianka who IS the cutest cat ever, I think you might enjoy the Creationist Cat.
This is my first pic of Bianka after being sprung from the shelter.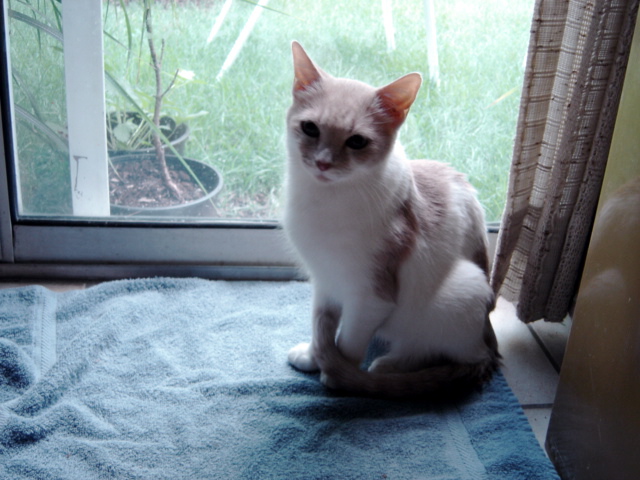 Creationist Cat is one of my all time favorites!  
Admin




Posts

: 260


Join date

: 2013-05-03


Age

: 55


Location

: Mendocino, CA



Pretty funny. And of course educational as well. I'll see your Creationist Cat, though, and raise you Existential Ennui. http://www.youtube.com/watch?v=0M7ibPk37_U

(Oh, & BTW, ho hum, I'm not sure Bianka is the Cutest Cat Ever... <rolling eyes and chuckling> but she is very beautiful.>

Similar topics
---
Permissions in this forum:
You
cannot
reply to topics in this forum