Page 2 of 2 •

1, 2
From NASA:
"This new NASA/ESA Hubble Space Telescope image shows a variety of intriguing cosmic phenomena.
Surrounded by bright stars, towards the upper middle of the frame we see a small young stellar object (YSO) known as SSTC2D J033038.2+303212. Located in the constellation of Perseus, this star is in the early stages of its life and is still forming into a fully-grown star. In this view from Hubble's Advanced Camera for Surveys(ACS) it appears to have a murky chimney of material emanating outwards and downwards, framed by bright bursts of gas flowing from the star itself. This fledgling star is actually surrounded by a bright disk of material swirling around it as it forms — a disc that we see edge-on from our perspective.
However, this small bright speck is dwarfed by its cosmic neighbor towards the bottom of the frame, a clump of bright, wispy gas swirling around as it appears to spew dark material out into space. The bright cloud is a reflection nebula known as [B77] 63, a cloud of interstellar gas that is reflecting light from the stars embedded within it. There are actually a number of bright stars within [B77] 63, most notably the emission-line star LkHA 326, and it nearby neighbor LZK 18.
These stars are lighting up the surrounding gas and sculpting it into the wispy shape seen in this image. However, the most dramatic part of the image seems to be a dark stream of smoke piling outwards from [B77] 63 and its stars — a dark nebula called Dobashi 4173. Dark nebulae are incredibly dense clouds of pitch-dark material that obscure the patches of sky behind them, seemingly creating great rips and eerily empty chunks of sky. The stars speckled on top of this extreme blackness actually lie between us and Dobashi 4173.
European Space Agency
Credit: ESA/NASA"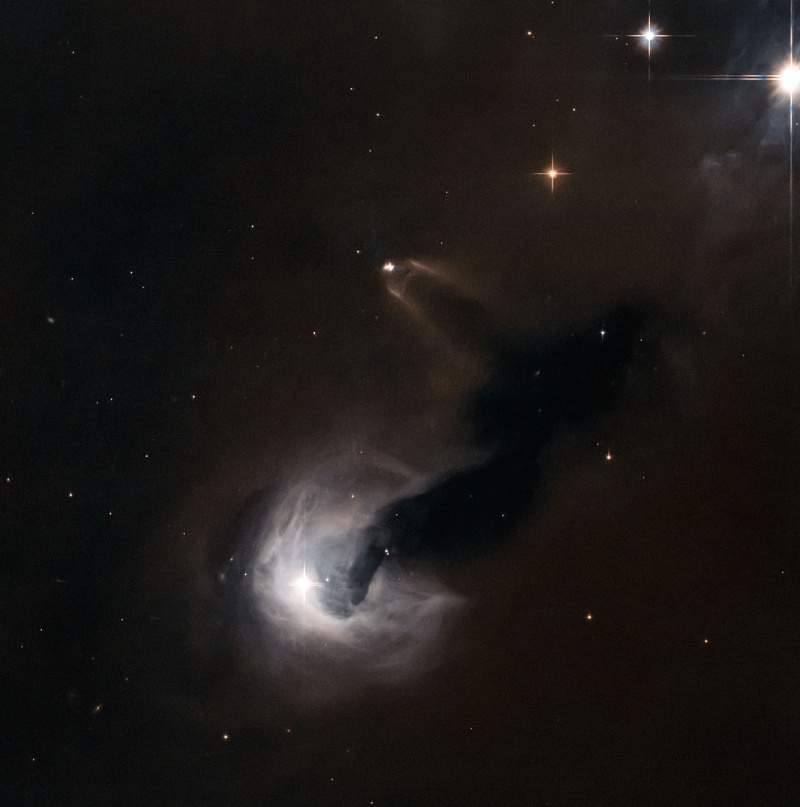 http://www.nasa.gov/content/goddard/hubble-looks-at-light-and-dark-in-the-universe/#.VACcbVZ4Wf0
Here is a fabulous image taken by Cassini.
The moon Tethys can be seen "hanging" from the rings of Saturn.
Enjoy!
http://www.nasa.gov/jpl/cassini/pia18284/#.VD1DVEt4Wf2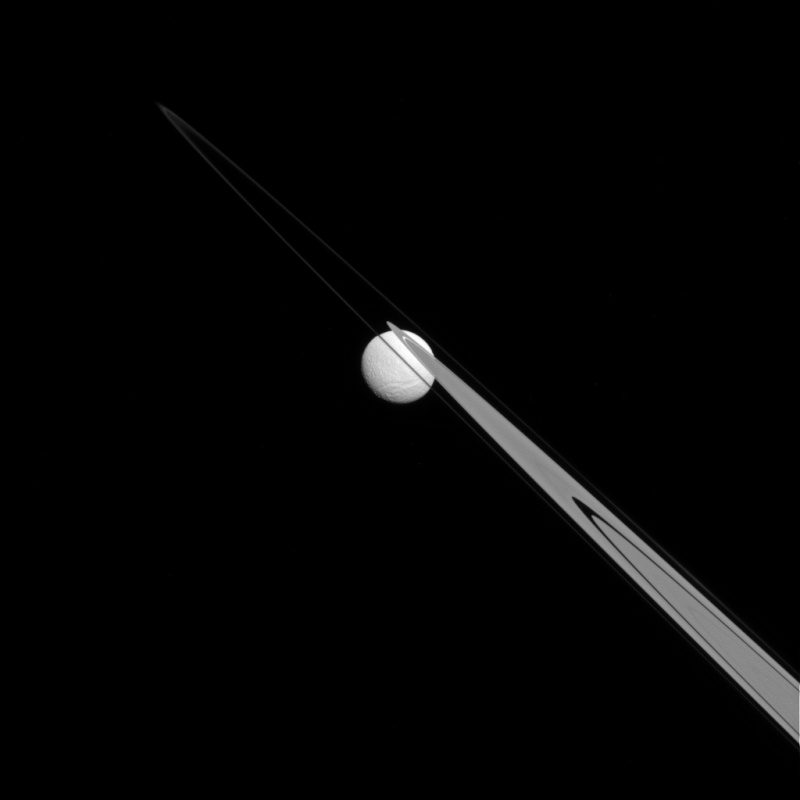 From NASA:
"Like a drop of dew hanging on a leaf, Tethys appears to be stuck to the A and F rings from this perspective.
Tethys (660 miles, or 1,062 kilometers across), like the ring particles, is composed primarily of ice. The gap in the A ring through which Tethys is visible is the Keeler gap, which is kept clear by the small moon Daphnis (not visible here).
This view looks toward the Saturn-facing hemisphere of Tethys. North on Tethys is up and rotated 43 degrees to the right. The image was taken in visible light with the Cassini spacecraft narrow-angle camera on July 14, 2014.
The view was acquired at a distance of approximately 1.1 million miles (1.8 million kilometers) from Tethys and at a Sun-Tethys-spacecraft, or phase, angle of 22 degrees. Image scale is 7 miles (11 kilometers) per pixel.
The Cassini-Huygens mission is a cooperative project of NASA, the European Space Agency and the Italian Space Agency. The Jet Propulsion Laboratory, a division of the California Institute of Technology in Pasadena, manages the mission for NASA's Science Mission Directorate, Washington, D.C. The Cassini orbiter and its two onboard cameras were designed, developed and assembled at JPL. The imaging operations center is based at the Space Science Institute in Boulder, Colo.
For more information about the Cassini-Huygens mission visit http://www.nasa.gov/cassini and http://saturn.jpl.nasa.gov . The Cassini imaging team homepage is at http://ciclops.org .
Credit: NASA/JPL-Caltech/Space Science Institute"
From NASA:
"Pareidolia is the psychological phenomenon where people see recognizable shapes in clouds, rock formations, or otherwise unrelated objects or data. There are many examples of this phenomenon on Earth and in space.
When an image from NASA's Chandra X-ray Observatory of PSR B1509-58 -- a spinning neutron star surrounded by a cloud of energetic particles --was released in 2009, it quickly gained attention because many saw a hand-like structure in the X-ray emission.
In a new image of the system, X-rays from Chandra in gold are seen along with infrared data from NASA's Wide-field Infrared Survey Explorer (WISE) telescope in red, green and blue. Pareidolia may strike again as some people report seeing a shape of a face in WISE's infrared data. What do you see?
NASA's Nuclear Spectroscopic Telescope Array, or NuSTAR, also took a picture of the neutron star nebula in 2014, using higher-energy X-rays than Chandra.
PSR B1509-58 is about 17,000 light-years from Earth."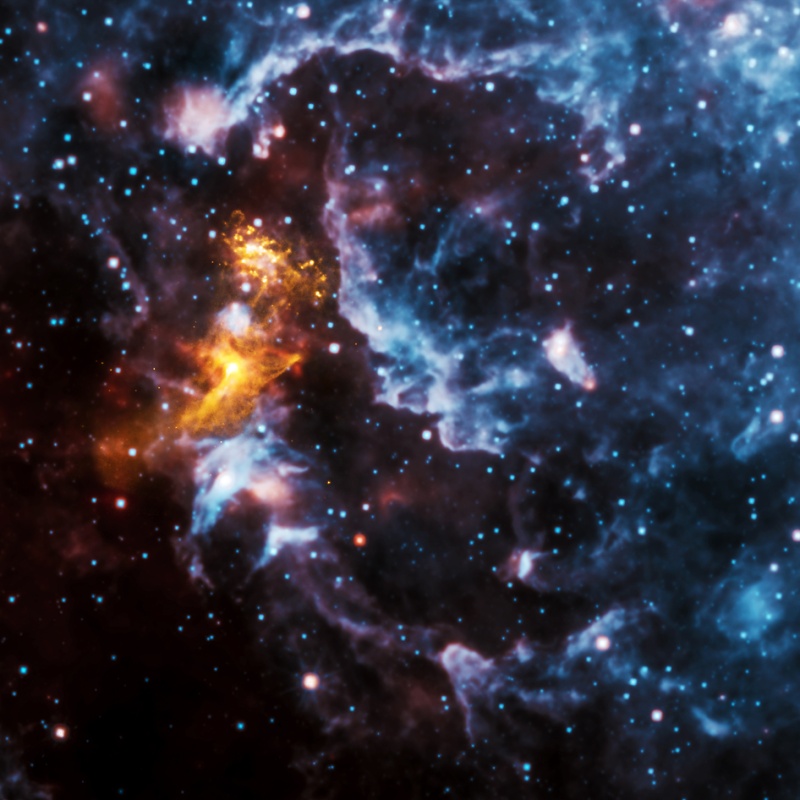 From the description:

"This movie shows 8 days – from Oct. 19-27, 2014 — in the life of the largest active region seen on the sun since 1990, including five X-class flares that erupted during that time."


Here is more solar flare imagery.
Taken December 19th 2014, this is spectacular.


A smile is a smile!  Enjoy!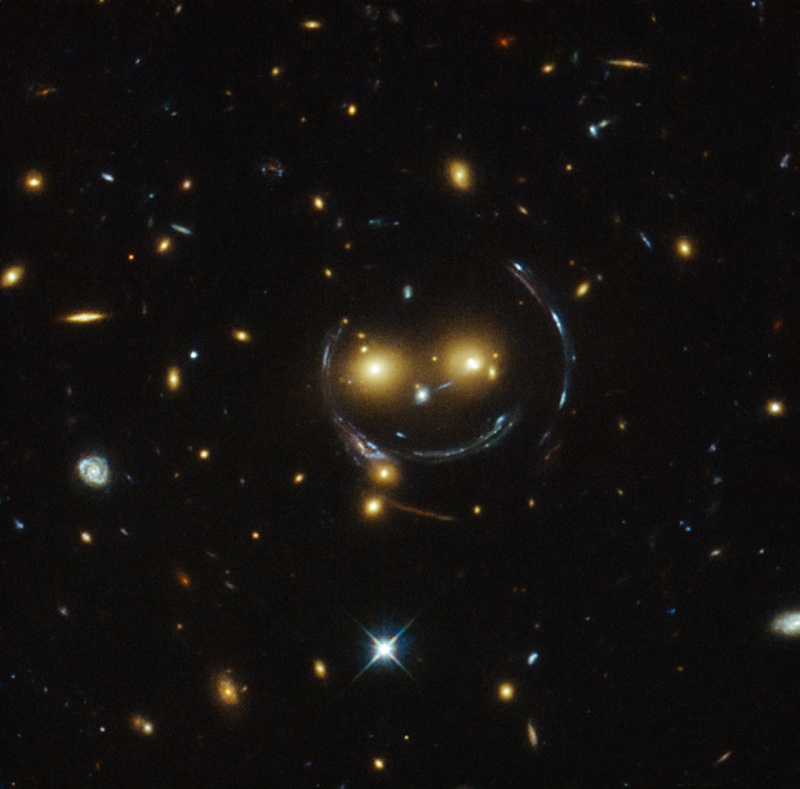 http://www.nasa.gov/content/hubble-sees-a-smiling-lens/#.VNowrUuKyf0
From NASA:
"In the center of this image, taken with the NASA/ESA Hubble Space Telescope, is the galaxy cluster SDSS J1038+4849 — and it seems to be smiling.
You can make out its two orange eyes and white button nose. In the case of this "happy face", the two eyes are very bright galaxies and the misleading smile lines are actually arcs caused by an effect known as strong gravitational lensing.
Galaxy clusters are the most massive structures in the Universe and exert such a powerful gravitational pull that they warp the spacetime around them and act as cosmic lenses which can magnify, distort and bend the light behind them. This phenomenon, crucial to many of Hubble's discoveries, can be explained by Einstein's theory of general relativity.
In this special case of gravitational lensing, a ring — known as an Einstein Ring — is produced from this bending of light, a consequence of the exact and symmetrical alignment of the source, lens and observer and resulting in the ring-like structure we see here.
Hubble has provided astronomers with the tools to probe these massive galaxies and model their lensing effects, allowing us to peer further into the early Universe than ever before. This object was studied by Hubble's Wide Field and Planetary Camera 2 (WFPC2) and Wide Field Camera 3 (WFC3) as part of a survey of strong lenses.
A version of this image was entered into the Hubble's Hidden Treasures image processing competition by contestant Judy Schmidt.
Image Credit: NASA/ESA
Caption: ESA"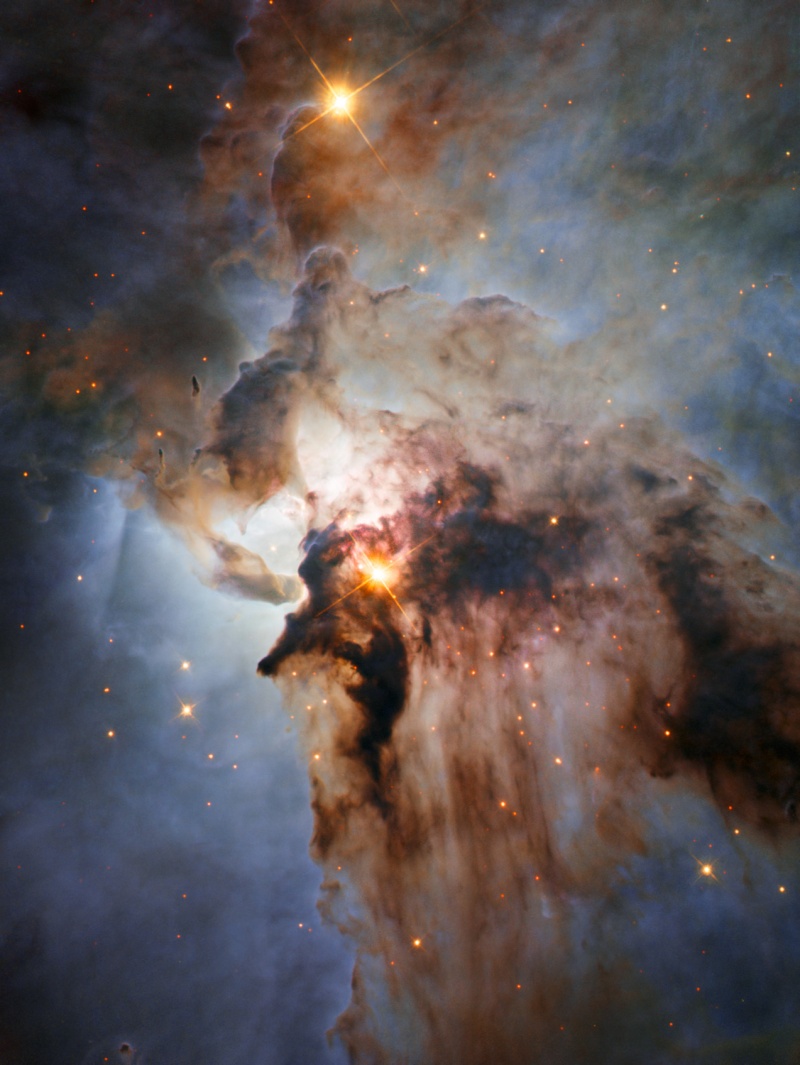 This new NASA/ESA Hubble Space Telescope image shows the center of the Lagoon Nebula, an object with a deceptively tranquil name, in the constellation of Sagittarius. The region is filled with intense winds from hot stars, churning funnels of gas, and energetic star formation, all embedded within an intricate haze of gas and pitch-dark dust.
Page 2 of 2 •

1, 2

Similar topics
---
Permissions in this forum:
You
cannot
reply to topics in this forum