A friend of mine said that I should drive through McDonald's and see the sign that is there.
I rarely eat that crud, but went through today.
Never again!
How come the folks working there do not wear haz-mat suits?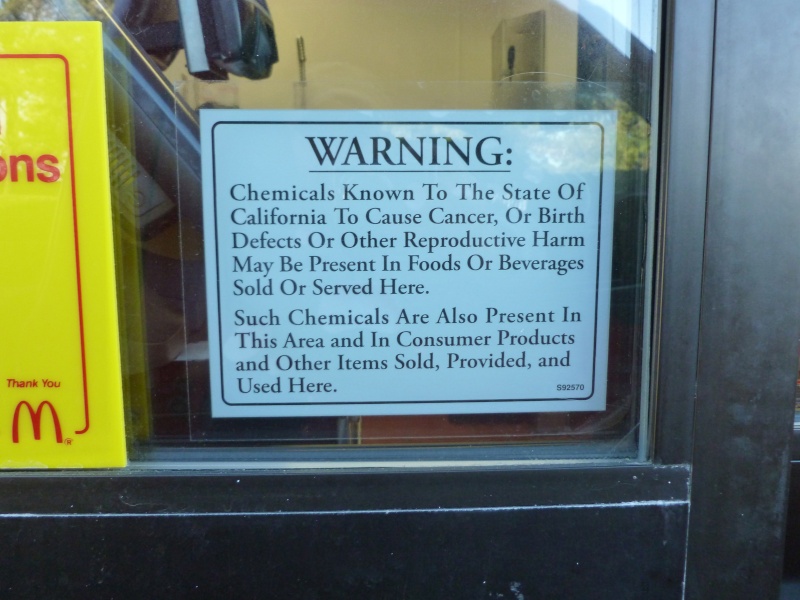 Admin




Posts

: 260


Join date

: 2013-05-03


Age

: 55


Location

: Mendocino, CA



To be fair, this sign, or a version thereof, is present in many places. Every hardware store has one, and so do art supply stores, shoe stores and clothing stores, to mention just a few who are required to post such signs.

Let's face it, we live in a deadly world full of plastics and fumes and other icky stuff.

OTOH, I am convinced that the Obesity Epidemic is a direct result of -- not just eating at Mickey Dee's -- eating "manufactured" food. I am not vegan or even vegetarian. I sometimes eat prepared frozen meals; but I am painfully aware that anything that has been manufactured for quick preparation and consumption has almost certainly had most of its nutrients removed in the process and an uncomfortable quantity of chemicals added to preserve color, enhance flavor and make it last longer. Not to mention high-fructose corn syrup which just goes straight to fat.

No one on this site will disagree with me when I state that corporations don't give a flying f... fruitfly about our health. Profits now! And if the chickens do ever come home to roost, well, legal settlements are never sufficiently punitive (a $100 million settlement only sounds big until you think about multi-billions in profit) to deter the complete lack of concern for the well-being of one's consumers.

Learn to cook, people! Anyone can make a burger that is better than MacDonald's. (Full Disclosure: I do actually eat there once a month or so when I am dashing about & the idea of 1500 or so empty calories appeals.)
Last edited by alexpierangeli on Wed Feb 05, 2014 8:19 pm; edited 1 time in total (Reason for editing : missing words)



Posts

: 8


Join date

: 2014-01-07



I agree.

I guess for me it is over the top when it is specifically mentioned in the food.
I have no expectation that a hardware store with paint, stains, supplies of Drain-O, and automotive products would not have such a sign.
To have one posted on a restaurant with 'billions served' kicks off my lemming alert.
Admin




Posts

: 260


Join date

: 2013-05-03


Age

: 55


Location

: Mendocino, CA



Yes, weeeellll, but it could just be the plastic containers they so freely contribute to the recycling bins, landfills and oceans of the world. Lots of plastics off-gas and, as I said above, corporations care about price not about my health. If they off-gas, it is probably into our food.

Ick ick ick! From my point of view, the sooner we run out of petroleum on which scientists can base new, cheaper, ever more unstable plastics, the better off we'll be. Well, plastics wise, that is. Because if we run out of oil before we stop pumping it out of the ground, the temperature of the planet will probably be much warmer than is comfortable for humans.



Posts

: 8


Join date

: 2014-01-07



I like the fries but I cant eat them anymore. The burgers taste good for a couple bites but I feel gross if I can actually finish one. Now taco bell I can get behind!



Posts

: 68


Join date

: 2013-08-03


Location

: Cleone




Similar topics
---
Permissions in this forum:
You
cannot
reply to topics in this forum